Recognized The Moment~
Category: Travel and Places
I had an incredible blog prepared regarding the Mayercraft Carrier....which was eaten up twice by Myspace...(I hate Tom).
So instead I am just gonna posted my pictures and videos, with a small synopsis for each.

MYSPACE THE MOVIE...IN 3D~

A huge highlight for me on this trip, was to see a very dear friend of mine....Abby.
She was my maid of honor in my wedding, and I have not seen her since my wedding day and we live on different coasts, me in California, and her in Miami, Florida. So almost 18 years later, I was able to see her again.



We were extremely privileged to have been invited to stay with our great friends and CREW members, Robin, James and their sweet little boy Taylor at their timeshare in Miami for a few days before the cruise for free. They went over and above. Many thanks to them.
We were finally able to board the Mayercraft Carrier aka Carnival Victory. Got to drink and party with all my favorite friend, myspace peeps, meet many great Mayer fans, and was introduced to some incredible musicians!!!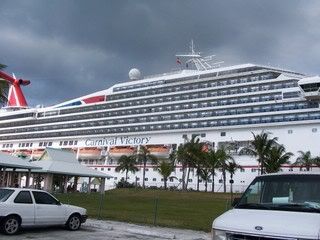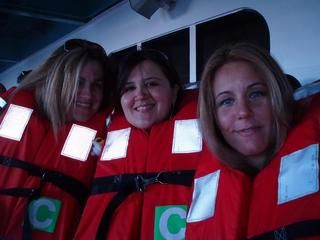 John came out on stage to welcome everyone, and I happen to catch it on video.....it is actually quite funny....let's just say that this was the most 'horniest' he had every been in public. *Tongue in cheek* He did mentioned that to enjoy this cruise and have him hang around with everyone, that maybe we could leave the cameras behind....um...yeah.....this cruise was so not just about him, I did respect his wishes, and short of the Lido Deck show, whenever he was around, I left my camera off.
Went to check out Dave Barnes set in the Casino Lounge...didn't take any pictures or video of that show, but was blown away by him, however, my friend took this picture of me and Caroline with him.
Got fairly shit-faced that night and was apparently named 'Queen of the World'.
Saturday we got to go shop and spend the most beautiful day in Port Lucaya, Bamahas. I almost felt guilty leaving my family behind in the cold.......almost. ;)
One of the many musicians that I was excited to meet was
Dave Barnes
, who was absolutely amazing, but was also surprised by another awesome musician that sat in as Dave Barnes' keyboardist.....
Gabe Dixon
.
We checked out some more of the ship and some others sets. Ran into a few of my favorite myspace peeps....The incredible Miss Mara aka BearHeadedGirl and is one of the best bloggers out there.
Went to meet the awesome David LaBruyere, he was a hell of a nice guy!
Caught a surprise set in the casino lounge with Francisco Vidal, Dave Barnes, and David Ryan Harris.
I actually had not planned on taping the Lido Deck Show per Mayer's request...and the highlights of the cruise were Mayer's performances. In a lot of cases, I feel guilty that I am a female fan because a great portion of his fans are women, which he seems to roll his eyes at because as a musician...I'm sure he wants to be taken seriously and not the magazine heart-throb that he seems to be labeled as, which I totally get and after seeing his performance with the Trio, it was all about his music, and nothing about "him".....but then....the son of a bitch had to walk out with no shirt on, and he actually looked pretty good....and I am only human...so fuck it, I turned the camera on. Damn it.
Got to meet another myspace friend whom I adore...isn't she beautiful....Miss Cia.
What's this all about Miss Lisa?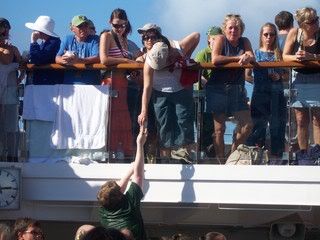 Caught David Ryan Harris' show next. He was awesome as usually.
Picture time with my friends!!!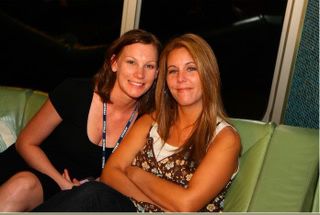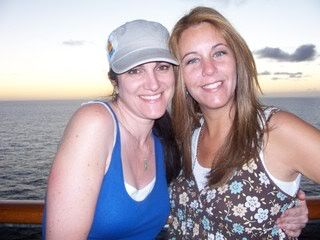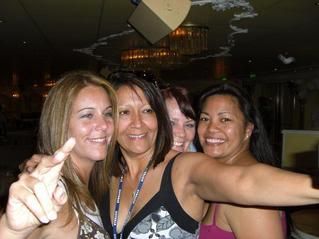 Went dancing a little with the Crew, Matt Mangano and Gabe Dixon....yes John was there, but we didn't pay much attention to him.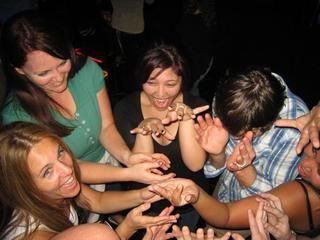 I have been introduced to many new musicians over the last few years that I love and I also have turned my 14 year old daughter into a huge fan.....one of them is David Ryan Harris. I have seen him perform many times. I told him about my daughter Hailey, and he was kind enough the make little video messages for her, he has done this several times actually:
Well....I have posted this in a bulletin already, but she also loves Colbie Callait, and she also made a video message for Hailey as well.
Having to get up at 8am in the morning to get off the boat was pure torture, since I didn't go the bed until 5am...but I couldn't leave without getting footage of our cabin.
All in all...I had an amazing time, met amazing people, and heard the greatest of music....and I can not wait to go again next year.......IF.....John follows through.
But the best ending to any trip for me...was coming home.